Speaker: Ben Davis
Topic: Windows 8 Mashups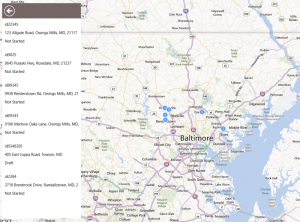 RSVP: Meetup
Location:Red Brick Station
8149 Honeygo Blvd
White Marsh, MD 21236
Date: Wednesday, August 28th, networking begins at 6:30
Abstract:
Working with Bing Maps API and SharePoint Online can be magical. Benjamin will show some of the magic that can be used to put together a Windows 8 app that can leverage the SharePoint online instance included in Office 365 and the Bing Maps API and show off data in a meaningful way. Just going over the basics of SharePoint online authentication and using the Bing maps API in and C#/XAML Windows 8 app.
Bio :
Benjamin Davis joins LCG Technologies as an application developer to primarily focus on the Microsoft Mobile strategy. With a growing knowledge of Microsoft technologies, Benjamin is not only helping to create LCG's presence in the Windows store but also help their clients with Microsoft centric mobile solutions.
Prior to LCG, Benjamin studied computer science at Morgan State University and has work independently on Windows phone applications.